Anthony's Skydiving Experience
At SkyDive Sebastian in Sebastian, Florida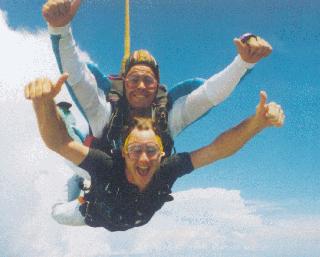 Before entering the novitiate at Grand Coteau, Louisiana I had the opportunity to actualize my dream to go skydiving at SkyDive Sebastian located in Sebastian, Florida.
I describe the experience as the perfect combination of thrill and tranquility. Part of my desire to skydive was prompted by a curiosity as to what happens after ones body realizes that it is falling. I wondered if the sensation would go away and how would my body relax. The best way I can describe the experience is to say that it felt as if I was flying!
When the airplane took off I knew it was too late to turn back. It was strange to see the door of the plane open as we ascended and flew to the "drop zone". As the jumpers in front moved toward the door to jump, they would prepare themselves and then suddenly just 'disappear'.
The free fall lasted for about 60 seconds while I dropped from 13,500 feet. The free fall was intense, I could feel my heart pounding and I screamed most of the way down. It was a total adrenaline rush!
At about 5,000 feet my tandem master signaled for me to pull the rip cord. The jolt was intense as we deccelerated from approximately 120+ miles per hour and slowly drifted down periodically spinning round and round under the open canopy of the parachute. This part of the jump was perfectly tranquil as I was able to look upon the beautiful east coast of Florida.