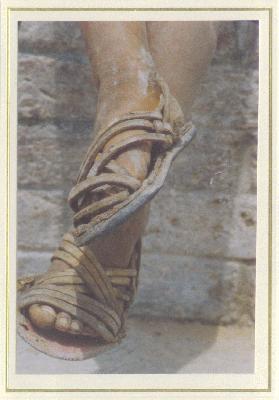 Whose feet are those before you?
They have walked a thousand miles
Through hardship, pain, and suffering
They have weathered worldly trials

Searching for their destination
These way-weary feet
Travel ever onward
Ignoring, sand, sun, and heat

The way is rarely easy
The path not always clear
Still they keep on searching
Hoping home is somewhere near

A place of final resting
Of beauty, love, and peace
Where the bonds of earthly torment
Will finally gain release

Someone waits to wash those feet
To soothe the pain away
Cleansing the sins of human life
Along with dirt and clay

Whose feet are those before you?
They seek a heavenly goal
Perhaps the feet of Jesus
Perhaps those of your soul.

by M.F.K.
---

Cards with the picture and a copy of the poem are available from the Artist/Photographer, Joyce Roach, O.P. If you are interested in ordering this or other Joyce's work please contact her at:

Joyce Roach, O.P.
Artist/Photographer ©
935 Fawcett Ave. S.
Tacoma, Washington 98402
(253) 272-9688