Xavier's Chocolate Cranberry Oatmeal Cookies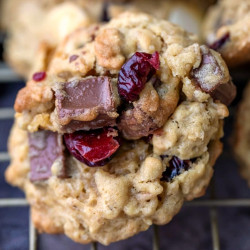 I found this to be wonderfully simple, delightfully tasty, and healthy (well except for the butter and processed sugar ;-) After all its got oatmeal and cranberries (which is almost fruit) in it - so the cookies must be good for you! Anyways, with a good mixer this recipe comes together in a flash and cooking time is only 10 minutes so with in 20 minutes you can be eating some delightful cookies.

(Makes about 2 dozen cookies)

Ingredients

    * 1 Cup Craisans
    * 3/4 Cup Unsalted Butter (softened)
    * 1 Cup Brown Sugar
    * 1/2 Cup Sugar
    * 1 Egg
    * 1/4 Cup Water
    * 1 Teaspoon Vanilla
    * 1 Cup Flour
    * 1/2 Teaspoon Salt
    * 1/2 Teaspoon Baking Soda
    * 3 Cups Quick Oatmeal
    * 12 Ounces Semisweet Chocolate Chips

Cooking Instructions

Preheat oven to 375 degrees. Beat butter and sugars until creamy. Add egg, water, and vanilla. Add dry ingredients and stir in oatmeal, chocolate chips, and cranberries. Drop onto greased cookies sheets and bake for 10 minutes. Remove from oven and let cool for about 5 minutes.
Enjoy.

St. Francis Xavier, S.J. was born Francisco de Jassu y Javier, on April 7, 1506, at the family castle in Navarre, sapin, the fifth and yougest child of Juan de Jassu and Maria de Azpilcueta. His early education was at home, and in September 1525, at age nineteen, he set out for Paris, where he began university studies. He matriculated at the College of Sainte-Barbe and his roommate was the young Savoyard, Peter Favre. Both were more interested in their degress than in their futures, but all this changed when the Basque Ignatius of Loyola moved in with them in September 1529. It was not long before Ignatius won Peter over to his way of thinking - to become a priest and work for the salvation of souls - but Francis proved more difficult. Francis earned his licentiate degree in the spring of 1530 and began explaining Aristotle at the College of Dormans-Beauvais, while he continued to reside at Saite-Barbe. It was only when Peter went to visit his family in 1533 that Igatius, now alone with Francis, was able to break down his friend's resistance. Perhaps if Ignatius had brought Francis these cookies he would have won him over more quickly.